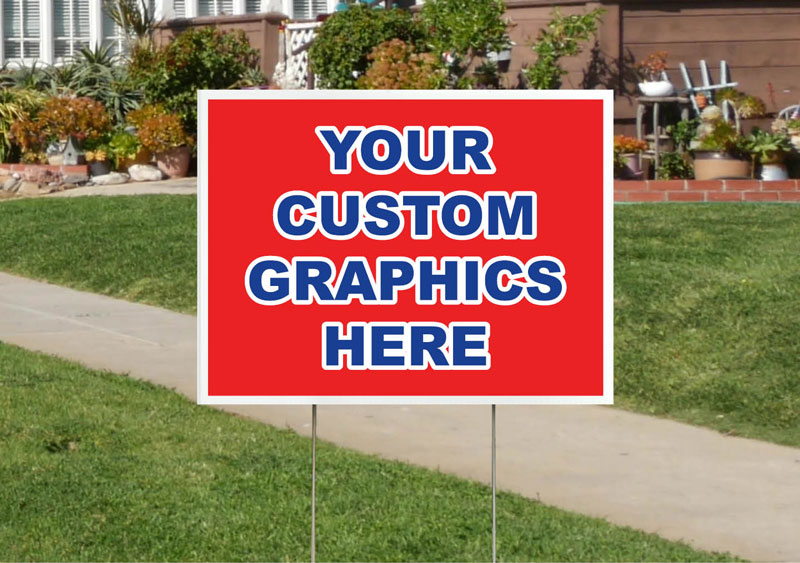 CUSTOM 4mm Plastic Yard Signs
Our Process for Printing Your Political Campaign
Order Yard Signs Online Now or Get a Quote for our many other custom products. We will send you a quick estimate back that you can accept. 
Easily upload your files directly to us via our File Uploader after purchasing online or accepting your quote.
Thanks to the best team in the printing and graphics industry, you won't have to worry about your project getting done correctly and on time!
Our Political Campaign Product line
No matter if your campaign needs 25 or 25,000 signs, Vision makes it easy for you to get your message out.
Below are just a few reasons to trust your campaign with Vision.
Streamlined online order process.
Upload artwork online. No artwork, NO PROBLEM! Request a consultation with one of our artists for a unique custom design.
Knowledgeable in-house Customer Service Dept is waiting to serve you, talk to a real person, no recorded messages!
Competitive pricing ensures you will maximize your budget.
Our large, state of the art 40,000 sq ft manufacturing facility utilizes the latest in printing and cutting technologies to produce your high quality order in a timely fashion.
They say that making your mark in the world is hard. If it were easy, evyone would do it. Vision Screenprinting & Graphics is an independent print house established in 2005, in Greenville, South Carolina. We specialize in helping you make an impact on people's lives through large-format screenprinting and digital graphics.

With a wide range of products, such as yard signs, posters, magnets, bumper stickers, vehicle wraps, and more, Vision Screenprinting & Graphics will make sure your message is heard in a visually appealing, cost-effective, and timely manner.