Framed Environmental Graphics
Today we begin our new "Featured Projects" series at Vision Screenprinting & Graphics. To kick things off we will feature a project recently installed at the new BMW Site Operations Center.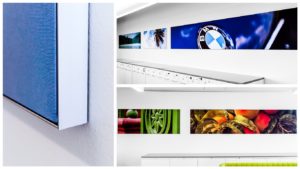 The BMW Site Operations Center project involved fabric substrates with high quality, dye-sublimated graphics mounted into extruded aluminum frames. Utilizing the aluminum frames gives the finished product a sleek, modern look that enhances the office in a way that could not be achieved with traditional framed art or vinyl wall graphics. In addition to the aesthetic contributions that aluminum frames add, they are also quick to install and the fabric graphics are easily interchangeable.
Framed environmental graphics are available in any size needed. They can also be utilized in a variety of ways, such as wall mounted, ceiling mounted or freestanding. And if just having high quality, framed prints isn't enough for you, these framed prints can even feature internal LED illumination.
For pricing and ordering information you can easily reach our customer sales representatives by phone: toll free 888.474.6619 • local 864.271.9992 or by email: orders@visionscreenprinting.com.