When a client desires to make their corporate workspace their own, an elegant and eye-catching answer is an SEG frame. "Silicone Edge Graphics" are vividly printed fabric photos stretched tight into a metal frame. A wide variety of sizes are available and can be unlit, side-lit, or backlit. One-sided and two-sided options are also available.
Turning Bland Walls Into Showpiece Spaces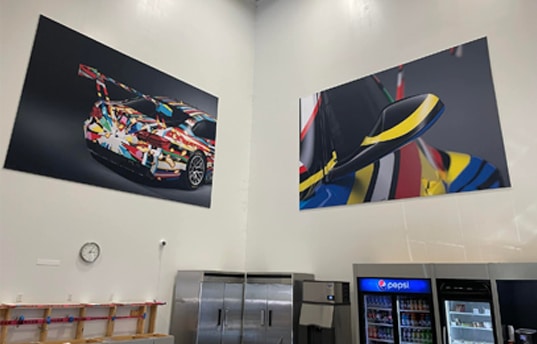 Vision Screen Printing and Graphics recently completed a large order of SEG frames for a new BMW warehouse near Gaffney, South Carolina, that included mounting stunning photography into office and meeting spaces. These pieces were six feet wide by three feet tall and immediately turned bland walls into showpieces. Vision also installed pieces as large as 20-feet by 10-feet SEG frames in the warehouse and break room, making these extensive spaces visually appealing. In addition, images from BMW's catalog of vehicles were enlarged in magnificent color. Once fabricated and mounted, these pieces told the story of this car manufacturer's exacting expertise and true ultimate craftsmanship. Large, bland walls suddenly became story-telling spaces.
Highlighting Your Corporate Vision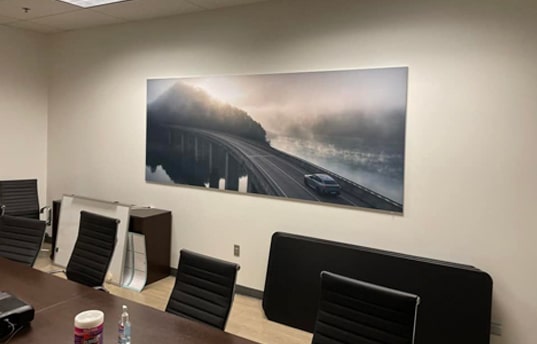 So, whether you want to add a brilliant splash to your lobby or conference room or need to highlight your corporate vision throughout your entire office space, SEG frames are an affordable and spectacular method to educate people by illuminating your products, services, and mission.
Easily Removing and Refreshing Your Message
The SEG system also allows a great deal of flexibility. Removing an existing photo takes seconds once the metal frame is mounted onto your walls (there are also free-standing systems) and lets you update your space for:
seasonal rotations
special events
or refreshing a space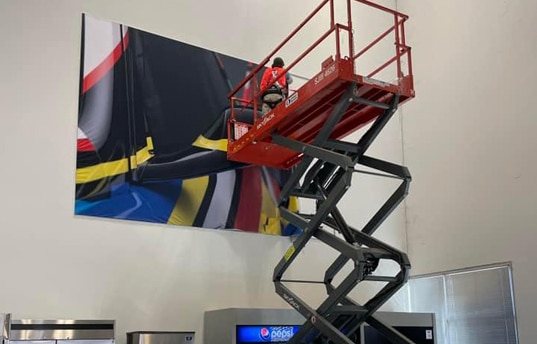 The silicone hems tuck into the frame channel and stretch tight across to the opposite sides effortlessly with no special tools. The finely fabricated systems are made to exacting standards that produce an ideal look and perfect fit.
Set your tone, promote your business, and deliver your message with style and pop! If you'd like to talk with us about improving your messaging and special spaces, contact us for an estimate today.